Facebook CEO Mark Zuckerberg is currently working on his latest and most intriguing project, to integrate virtual reality (VR) into the social media platform. Facebook is a place where individuals can connect and build up a whole network of friends, family and acquaintances. It is undeniably a behemoth in the social media world, but its position has recently been threatened by the increasing prominence of alternative social media platforms such as Snapchat, WhatsApp and Instagram (the latter two now owned by Facebook), and statistics show that younger generations are reluctant to buy into the Facebook brand. This move to VR may mark an important step in making the Facebook social media experience more appealing to the next generation of social media users. Either way, it is an ambitious effort to bring something that was once confined to the gaming industry into the hands of the increasingly technologically literate mainstream.
Having acquired virtual reality technology company 'Oculus' in 2014, Mark Zuckerberg has already set himself up with the correct knowledge base and resources to take on this ambitious project. He demonstrated his vision of a VR Facebook while speaking at the Oculus Connect conference in San Jose last week. Using Oculus' VR Headset (below) and live video feeds, Zuckerberg revealed many interesting uses for the VR headset.
Mark Zuckerberg/Facebook
Zuckerberg testing out the Oculus VR Headset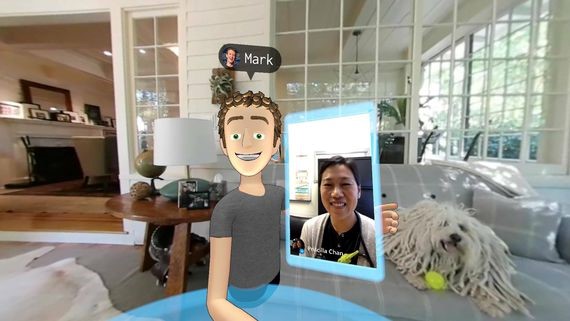 Mark Zuckerberg/Facebook
Mark Zuckerberg and Priscilla Chan capturing a virtual moment together. Neither person is present at their home, but via live video feeds Zuckerberg's avatar is visible in his home, accompanied by his wife who he is having a 'Facebook messenger video chat' with.
The technical nuts and bolts
So how does this work in practice? Virtual reality (VR) has been around for a fairly long time. The first virtual reality system was created in MIT in 1978. Since then Sega, Nintendo, Google, PlayStation 4 and others have developed their own VR technology. In this particular case (using Oculus technology), entering the virtual world requires three pieces of hardware: a headset, a controller and a sensor. The headset contains the display and optical technology which projects an image of a landscape in front of the user's eyes, the sensor will change the visuals that are projected as the user's head turns or moves, and the controller enables one to gesture and pick up objects in VR. When this is paired up with Facebook software, one can interact and connect with other users in VR.
The user appears as an avatar in VR. This avatar can display real time emotions such as frowning and laughing. This is achieved using a camera bolted to the front of a headset, in order to capture facial movements for the lower half of the face, and strain gauges inside the foam liner of the rift to capture the movements from the upper half of the face. Facebook users can interact with each other in a lifelike manner whilst visiting the surface of Mars for a meeting, or travelling underwater via livestreams.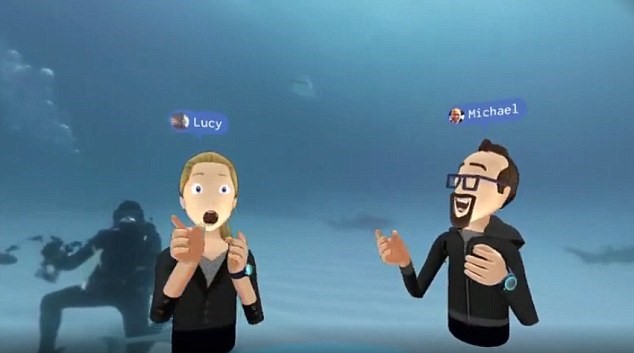 Mark Zuckerberg/Facebook
Two VR users meeting underwater.
VR Rivals?
Zuckerberg has announced that Facebook will invest a further $250 million in developing the VR headset on top of the $250 million that it has already spent. However, Facebook is not alone in working on a project of this kind. Microsoft, which is currently working on HoloLens virtual reality software, has built a holographic computer which enables the user to interact with high‑definition holograms in real time. Meanwhile, $592 million company Magic Leap is creating augmented reality glasses which can combine fictional characters with the real world. Investment is large and the competition is stiff in this market, but it seems apparent that Facebook has the resource and innovative power to build something unique.

Beyond a social media use, VR holds great potential. Lucasfilm has raised funding to produce an animated virtual reality film; a research team at Brown University, have re-created a temple site in Jordan, enabling them to study this in detail from a distance; and Google is working on Expeditions, a way to send students to places such as the Great Barrier Reef where they can have lessons in marine biology and oceanology. To quote Zuckerberg, "we have this space and we can do anything in it." The way that social media and virtual reality will be used in the next decade may bring many positive developments for knowledge sharing and entertainment; this is definitely a space to watch.