As we discussed in our previous blog, we know that the main 4Ps help us build our marketing strategy. Since then, the 4Ps have been extended to 7Ps namely, Product, Place, Price, Promotion, People, Process and Physical Evidence.
Now you must be wondering, why the additional 3Ps when we can just stick with 4Ps and you are right, the 4Ps in the marketing mix certainly make up the main elements to look out for when building your brand. But if you're looking to build a strong marketing strategy one cannot choose to overlook People, Process and Physical Evidence.
Before I dive into elaborating further, a quick revision of what the marketing mix is? The marketing mix is a fundamental component of marketing, it allows you to make business decisions to ensure you know what your business needs and what improvements are needed to be made to safeguard you are on the top.
The remaining 3Ps are: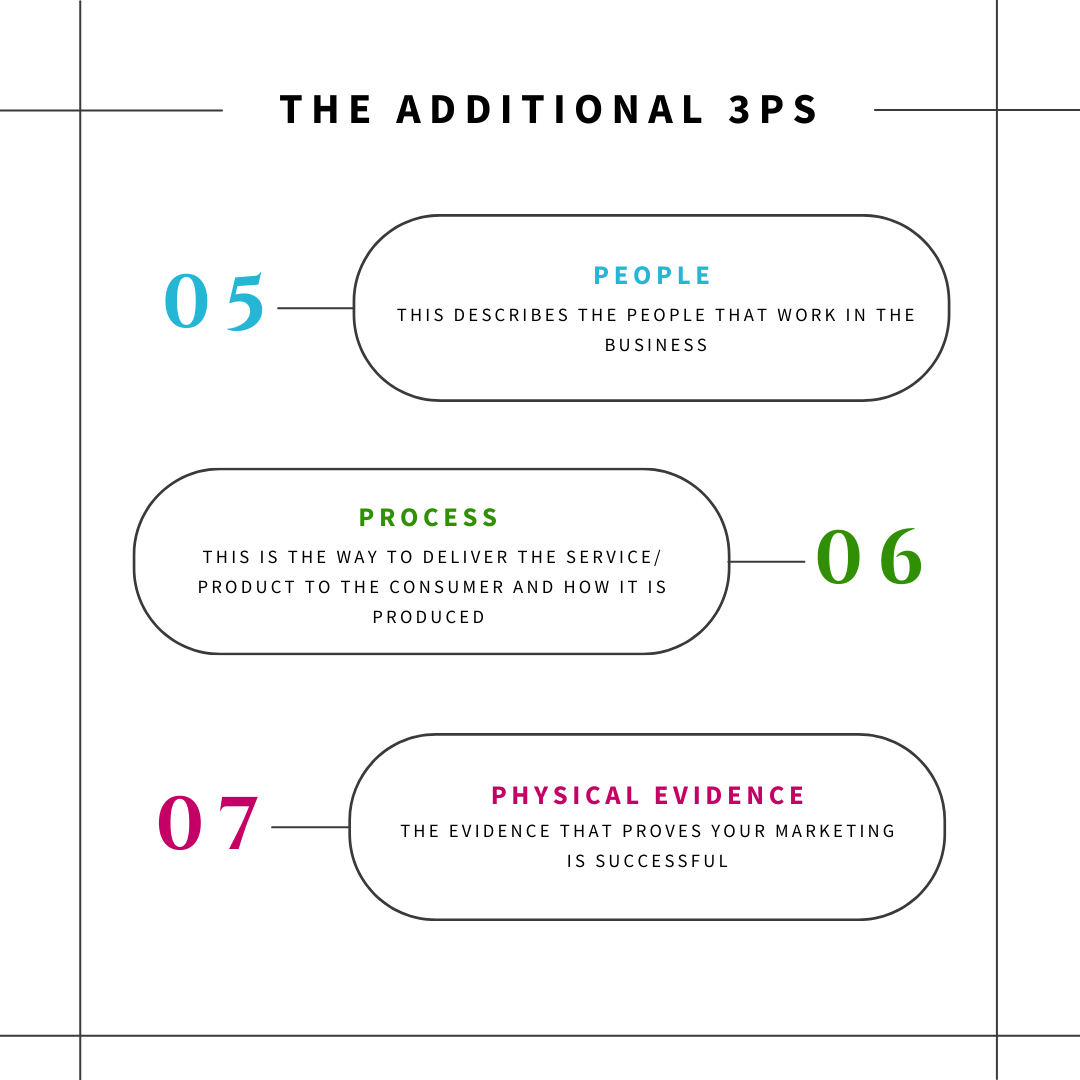 People… what do we mean by people? Well, these are the people who are involved in selling and supporting your product or service to the customer, i.e., the employees. They are also the ones who interact with the customers to deliver the product/service.
At Merali Digital, we have our wonderful team consisting of our Managing Director, our Business Development Manager, Content & Social Media Manager, Digital Marketing Manager Senior Developer, Digital Marketing Executives and Developers. We all work together to provide the best digital service to help develop and build your brand.
An example of this can be selling designer shoes, the employees that work to create the shoes and sell them would be the People. As a result, they need to understand your business objectives as they are the ones who are part of the brand image.
Process, this identifies how everything fits together and how to meet the customers' expectations. It also looks at how are your products or services are actually getting to the customer and how successfully those processes are managed. This is where you can look at quality assurance and quality management, the systems and processes that deliver a product/ service to a customer.
At Merali Digital, we do this by creating marketing plans in advance for the next quarter and pushing out content for our clients to ensure they are out there in the market. We also suggest various campaigns with supporting data. This is all to make sure that the service we provide is not only fail-safe but also helps clients gain leads and conversions.
Onto Physical Evidence, this is all about the evidence that proves that your marketing is successful and that your product and service are definitely out there and doing what they should.
At Merali Digital, we have testimonials from our clients that give us feedback on our work and we also create reports for our clients to ensure we are meeting their objectives. But more importantly, analyse the data and information to make sure it aligns with your company's goals.
When you combine the key applications for the 7Ps for strategic planning you allow your product or service to be introduced to the market. Helping you to analyse what product/service is needed, how you fit into that marketplace, what sort of place should you be promoting your product or service in, and how should you be getting through to the customer. Furthermore, it helps define your strategy in a more successful way.
At the end of the day, marketing is all about "the right product, in the right place, at the right price, and at the right time" (Adcock, Halborg and Ross, 2001) so following this mindset would allow you to be able to build and develop your business so that you can get leads and conversions!
If you need help with building and developing your brand, leave it to us and you can focus on being the image to your business whilst we work behind the scenes to get your sales and leads. Just call us today on 01923 823577 and we would be more than happy to help. As we always say 'anything for anyone'😁.
Reference:
Adcock, D., Halborg, A. and Ross, C., 2001. Marketing. Harlow: Financial Times/Prentice Hall.